Expecting a bundle of joy this year? Time to whip out the camera and make some memories! Here are 20 beautiful pregnancy photo ideas and inspiration for photographing your newborn baby.
Family by numbers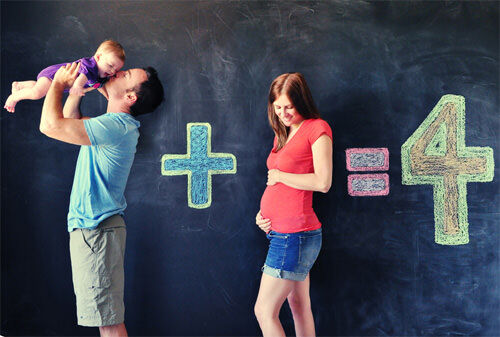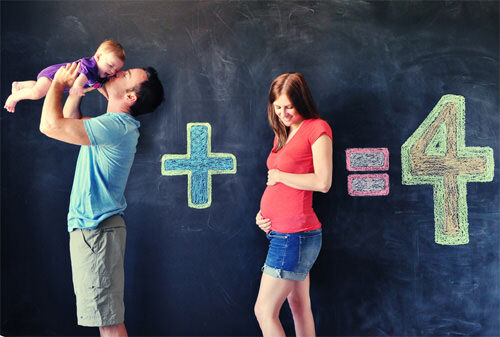 Announce your new addition with a bit of simple addition! If you don't have a wall you can write on, simply pose for the photo, leaving space for the numbers and symbols. Then use editing software or an App such as Little Moments to write the text over the top. (via: Hanna Mac)
Fell asleep reading …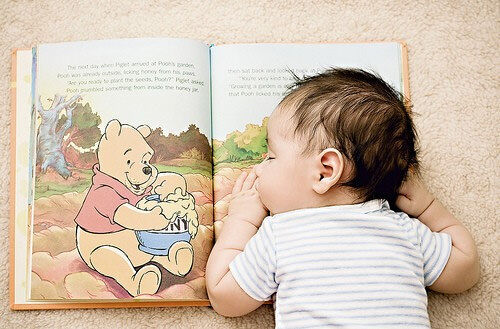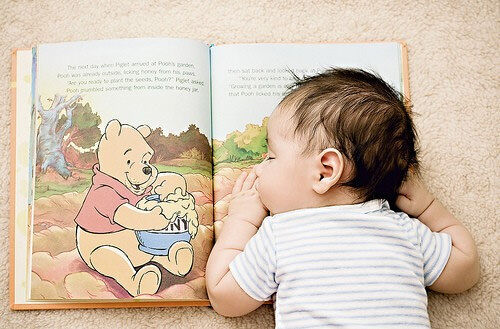 Capture a real moment of cuteness by snapping your bubba softly sleeping over the families favorite picture book. Winnie The Pooh and The Hungry Caterpillar are classic examples. Bring out the books from your childhood and create some adorable new memories. (via The Name Is Jessie)
+1 blocks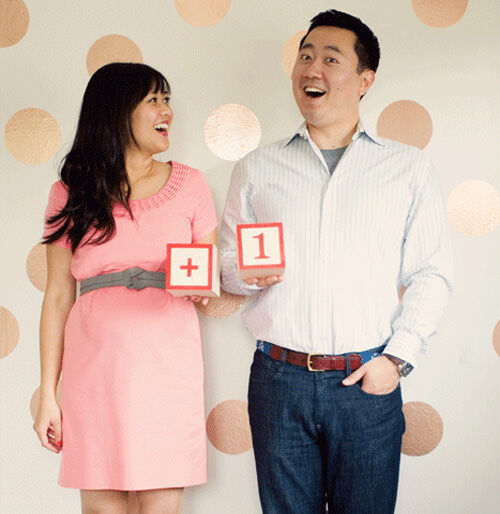 Let everyone see that two is soon to be three by using + 1 blocks. Line up and get ready to say cheese! This snapshot is a great way of letting friends and family in on your +1 surprise. (via Oh Joy)
 Blackboard wall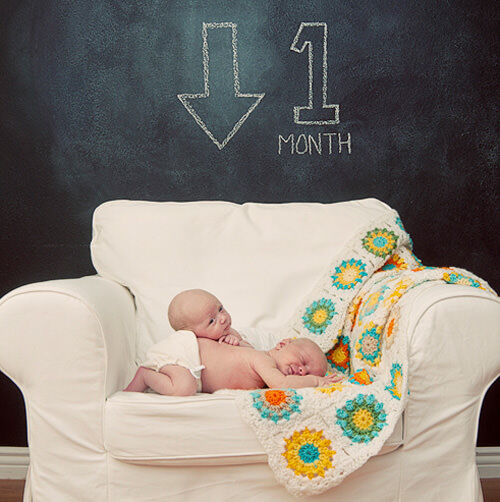 Show the whole world how quickly your new bubba's have grown. If you don't have a blackboard wall at home, simply re-create this look using a plain wall backdrop and online photo editor Fotor. Upload your gorgeous picks, choose your text and away you go. (via The Letter B Photography)
Listening to baby

Let your little one listen to baby bump with some tin can technology! These tin can telephones are a great crafty project for the family to make at home. Get everyone involved with tins and string, then they can listen all day to the baby on the way. (via Virginia Smith at Vintage Modern Photography via I Heart Faces)
You've got mail!

Special delivery! It's not everyday you get mail like this. Wrap up your bundle of joy and put a new spin on newborn photography. (via Get Parade)
Beer or baby?

Is that a belly full of beer or a belly full of baby? This is a hilarious way of announcing baby on the way and making fun of daddy at the same time. (via Nastiordie)
Special delivery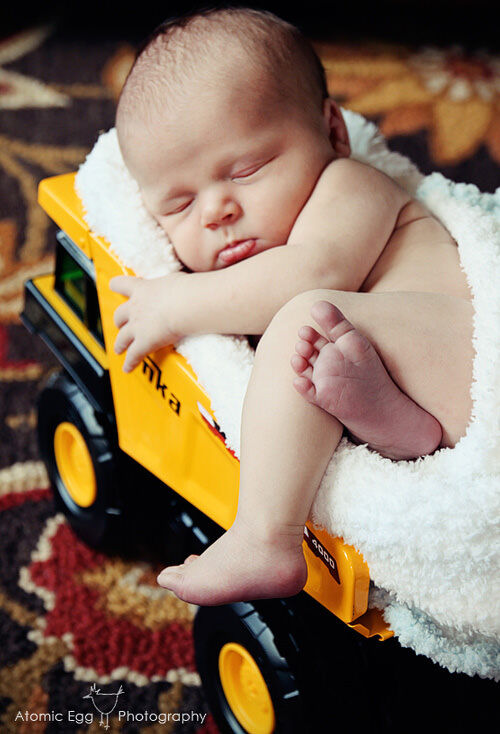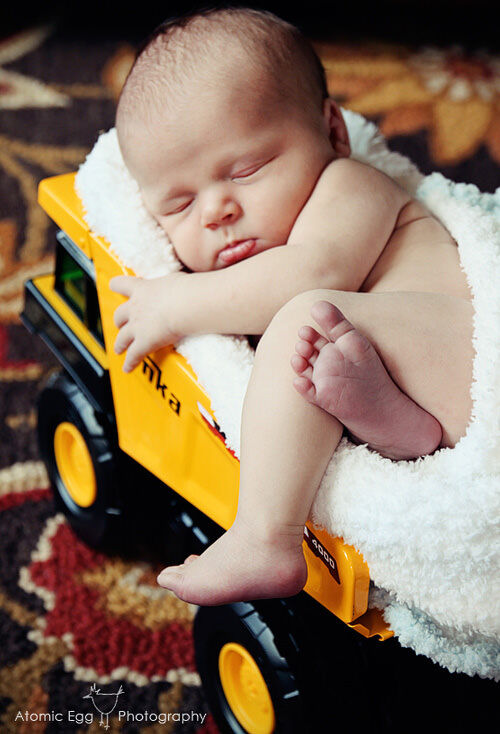 Look who just rolled into town. A picture with a Tonka truck will do the trick if you think you have a budding builder on your hands! (via Amy Locurto at Living Locurto)
Bump ahead!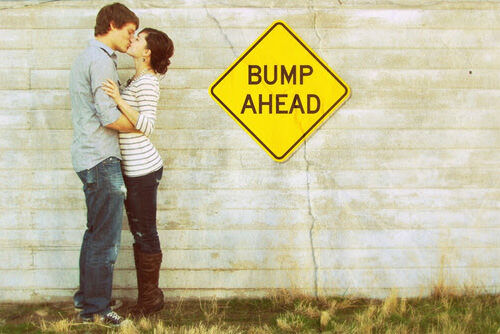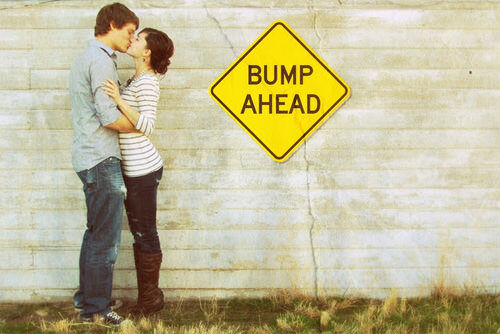 Caution…bump ahead!! Tell everyone you're in for some mini disruptions with a bit road sign creativity. Find a nice spot for some roadside snaps or go hunting at a local junk yard for your thrifty fix. (via Becoming Mrs G)
Monthly timeline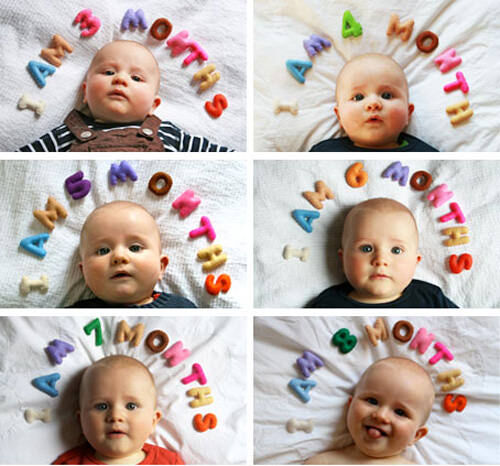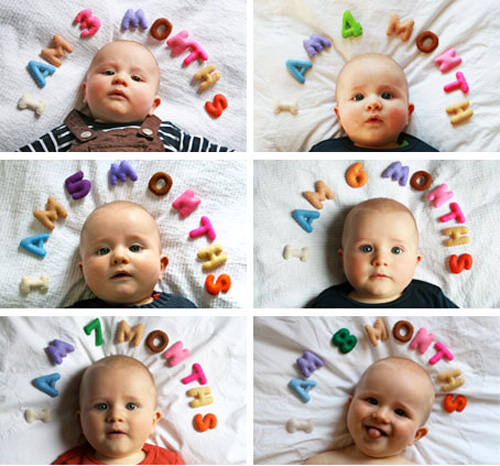 Look at me! Time will soon start to fly when your newborn arrives, so remember each moment with a month by month picture. What a simple and fun way of watching beautiful baby turn into a tiny toddler. (via Famille Summer Belle)
Cute clothesline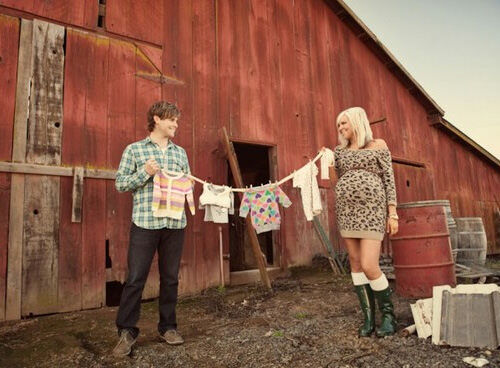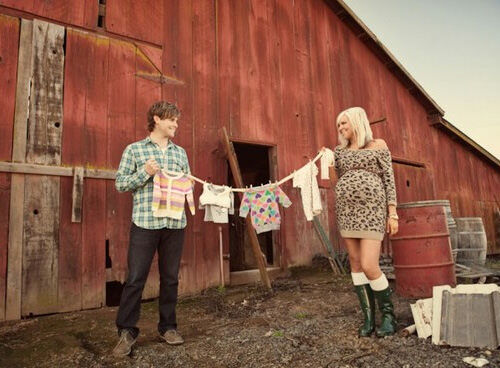 Tiny trousers and super small skirts will have everyone saying "aawwww". A cute clothesline shot will have friends and family counting down the days until they get to play dress up with the mini fashionista. (via The Lens Loves)
Picture perfect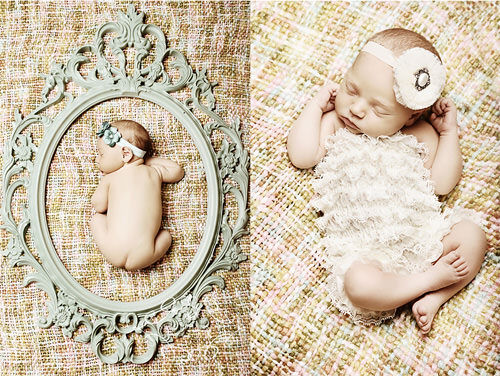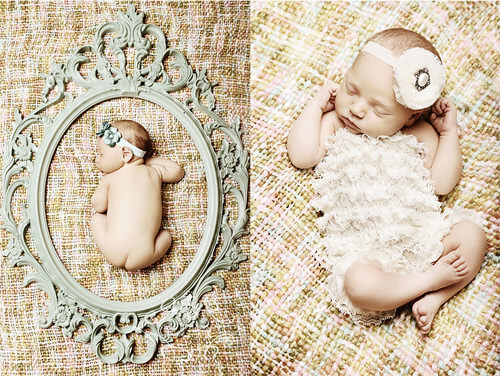 A baby photo with a difference. Bub can be the centre of attention by creating a beautiful frame around them. Using soft fabric as a backdrop, you can easily make this picture perfect moment at home. (via Skye Johansen)
Hello my name is …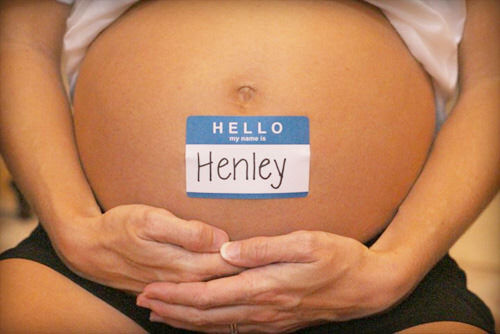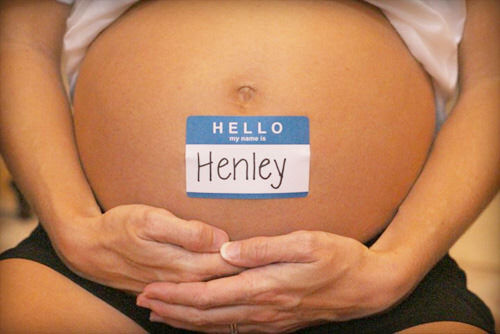 Introduce the new addition to the group with a simple name tag or sticker! Done in seconds, this photo will make sure every knows someone special is on the way. (Image by Jesaca Wilson at JKW Photography via PicasaWeb
Name reveal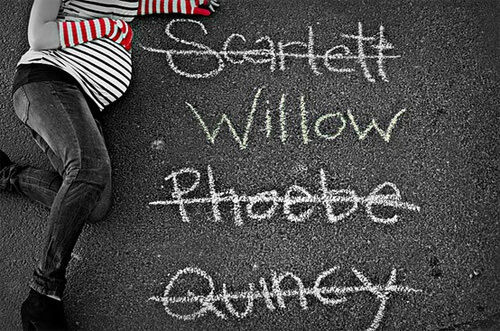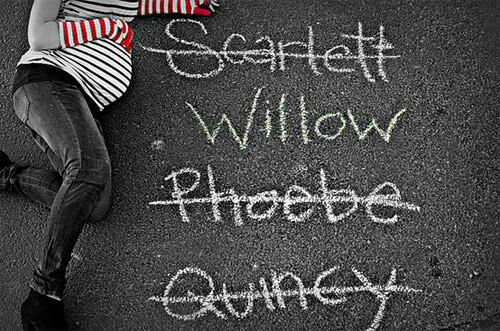 We've all seen typical gender reveals, but how about a name reveal? Deciding on a name is a tough decision for all parents, but once you've found a favorite a picture like this will make you love it even more. (via The Turquoise Frame)
Just like mum …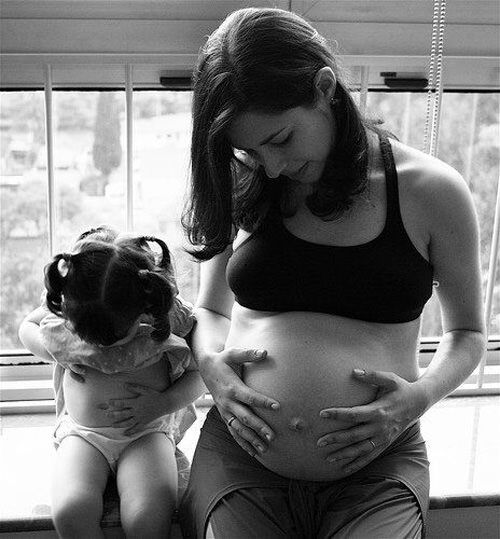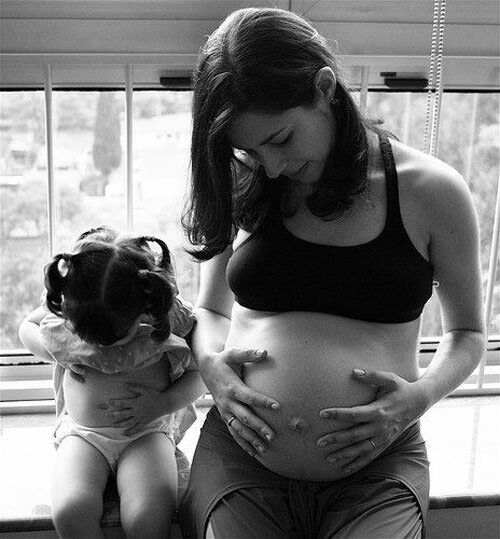 Double tummy trouble! Get mini me involved in your playful pregnancy pictures by showing off your bursting bare bumps. (via Img Fave)
Sweet siblings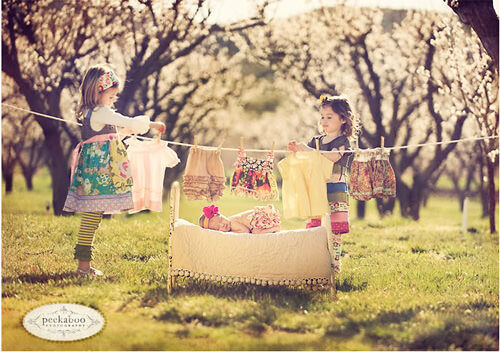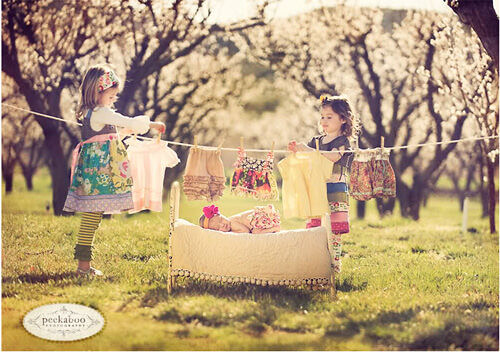 Catch the kids playing happy families with a picture of sweet siblings. A cute childhood memory like this is definitely one for the family album! (via Peekaboo Photography Peekaboo Photos)
Family feet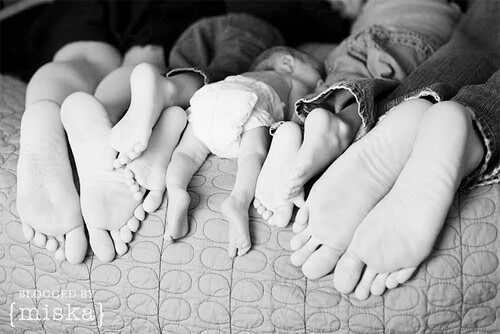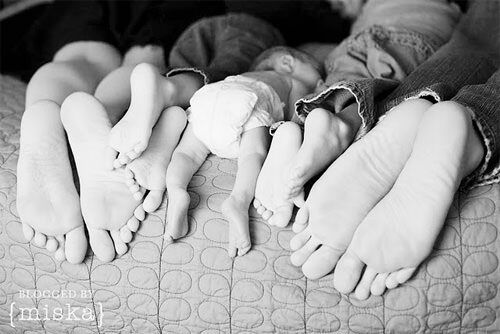 Get your twinkle toes together for a feet family photo! These fun feet pics can be taken standing up or lying down, black and white or color. Either way, we LOVE this modern take on a family portrait. (via Miska Miller)
Coming soon …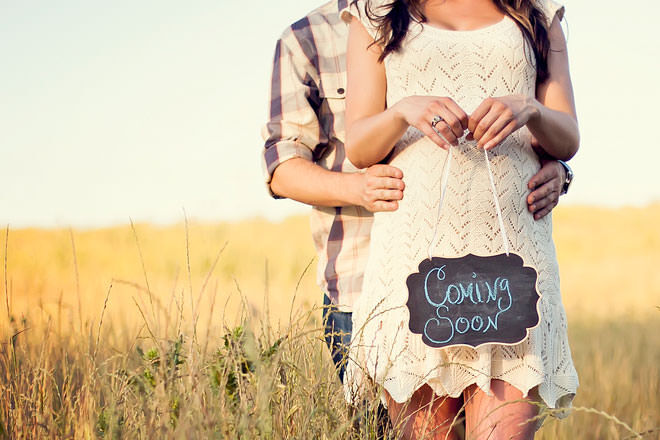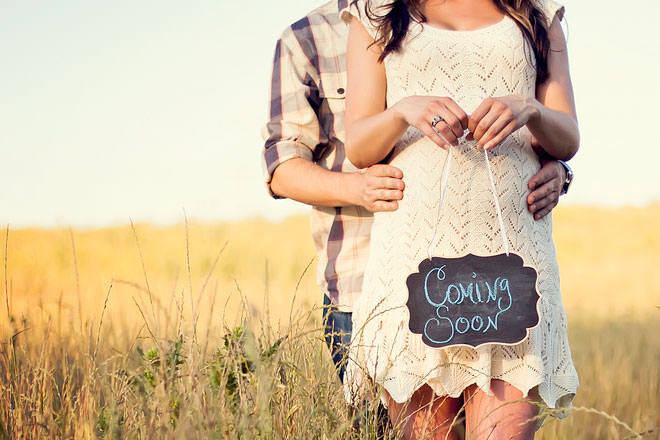 Excited for your new arrival? Keep everyone in suspense with a sign for 'coming soon'. (via Done Brilliantly)
Countdown t-shirt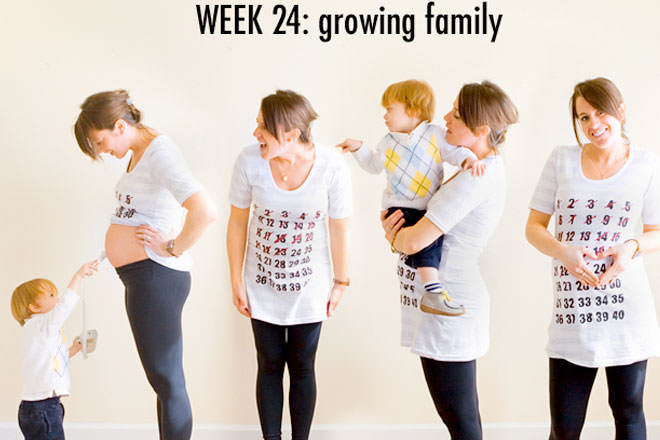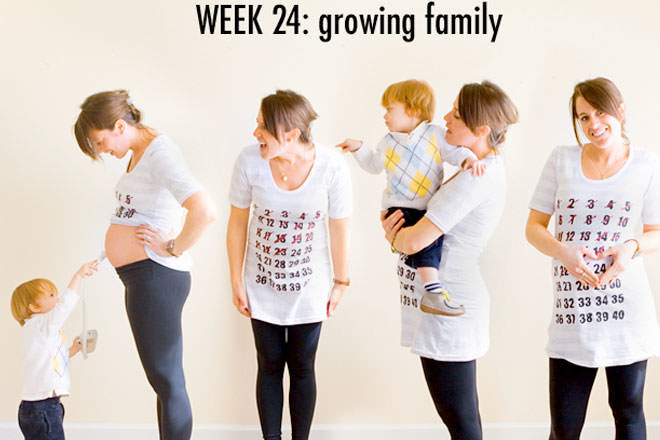 A countdown t-shirt and a little bit of creative photoshopping is a great way to record your growing bumb. (via One Little Minute)
Sleeping beauty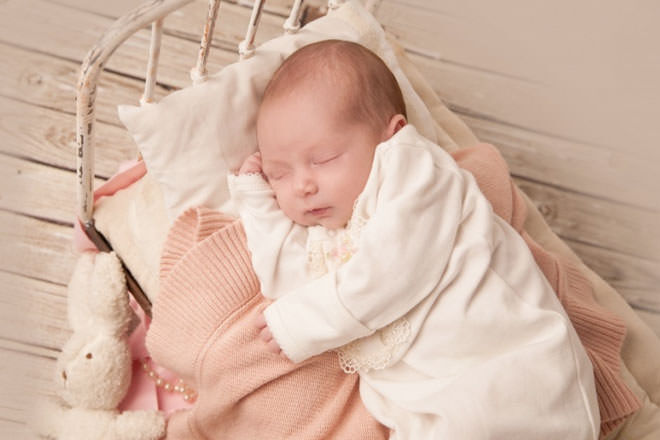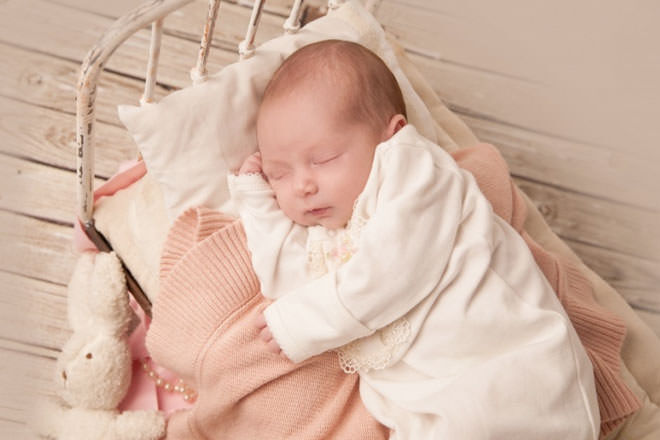 A doll's bed can be a gorgeous photo prop for a newborn. These divine vintage beds are available via the US from Dream Come True Beds on Etsy. Or for a thrifty version pick up IKEA's dolly bed and do a DIY rustic paint job. (via Artistic Inclinations)