Having somewhere comfy and safe to wash bubba is important – but it doesn't necessarily have to be the family tub. From baby bath seats to genius inserts, stands and perfectly proportioned baby bath tubs, there are plenty of alternatives available to cover all families' spaces and needs.
To help you find the best bathtime solution for your little mess maker, we've curated a complete list of Australia's best options.
What to consider when buying a baby bath tub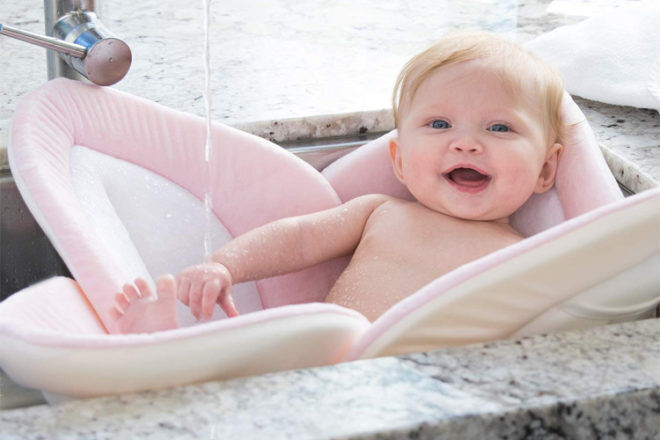 You're likely to be bathing your baby every day or so, so the baby bath will be getting plenty of use for the first few months. But before you splash out on one, here are some pointers to help you find the right type of baby bath that's going to suit your family.
Consider where you will use the bath – The regular tub or shower floor is a great option for ease of drainage and suits full-size baby baths. A bench or table allows you to bath bub at the perfect height, but given that it involves some heavy lifting at draining time, you might want to opt for a more compact tub style.
Storage – Full-size baby baths can be bulky, so you'll need to ensure you've got somewhere to put it when it's not in use. Many parents keep it in the real tub (which also helps bub acclimatise to the bathroom) but this may not work if you have a shower over the tub and/or other toddlers to bath at the same time. If space is an issue, perhaps consider a collapsible bath that's easier to pop away.
Drainage: A full baby bath is heavy and can be hard to lift and tilt to empty. Look for a style with its own plug hole so that you can drain those suds without breaking your back.
Safety features: Just as bubs and tots can be wriggly creatures, bath tubs can be slippery places – particularly when cleansers and other skincare products are used. If you're concerned about safety in the tub, look for styles with safety belts or slings to keep baby secure.
---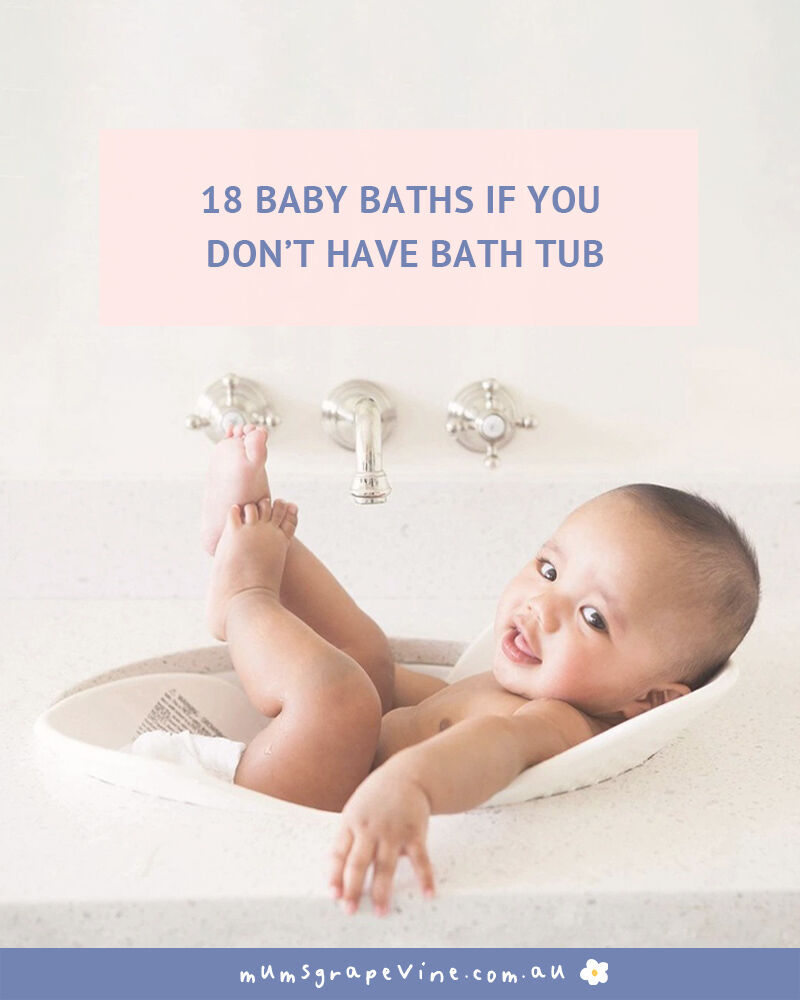 18 best baby bath tubs and other options
Our list of fab brands will help you find the best bathing solution for your splash-happy bubba. In no particular order, here they are:
1. Beaba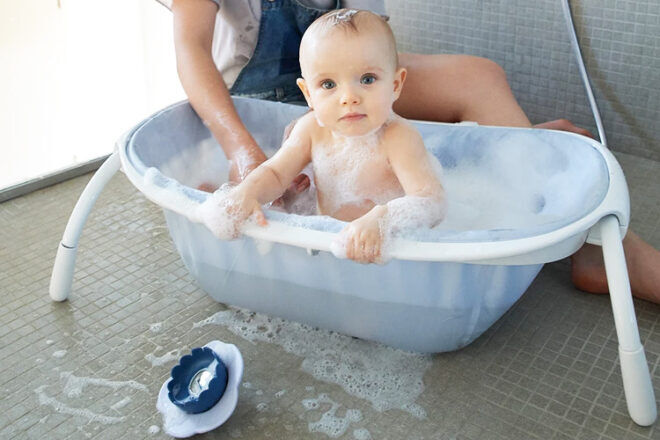 This compact baby bath is not only collapsible, hangable and portable – it's also a fab bathing solution for families low on space. It comes with showerhead support for rinsing baby and a non-slip fabric surface that conforms to little bods.
---
2. Shnuggle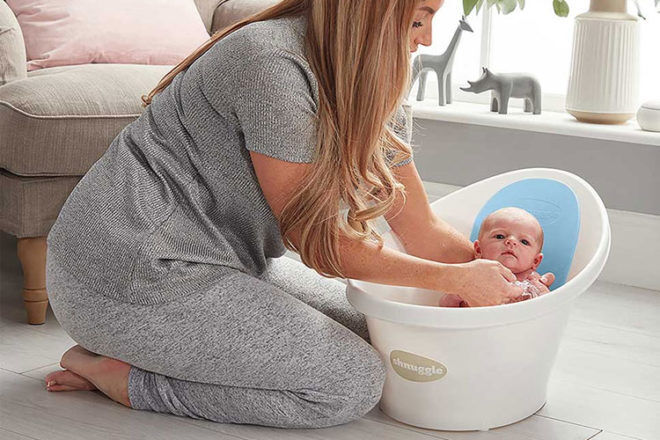 An award-winning baby bath with a little bump in the base for baby's bot. This clever feature helps to keep soapy babes upright while preventing slipping and sliding when it's wash time. Choose from five glorious shades.
---
---
3. Skip Hop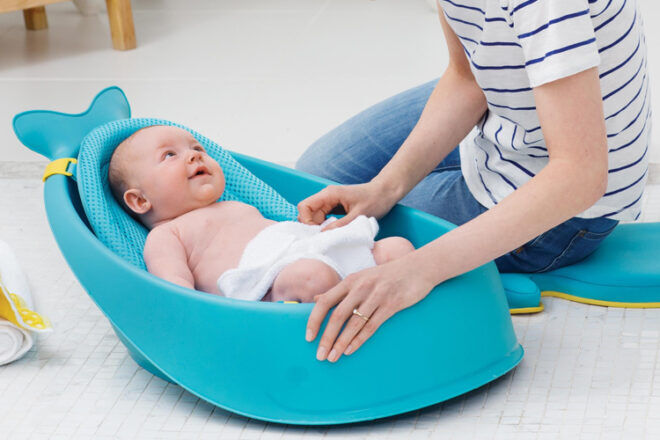 Practical and oh-so-pretty, the Moby baby bath from Skip Hop features a washable mesh sling to help keep slippery bubs in place. It's a godsend for tired arms, allowing parents to tend to delicate babies with both hands.
---
4. Love N Care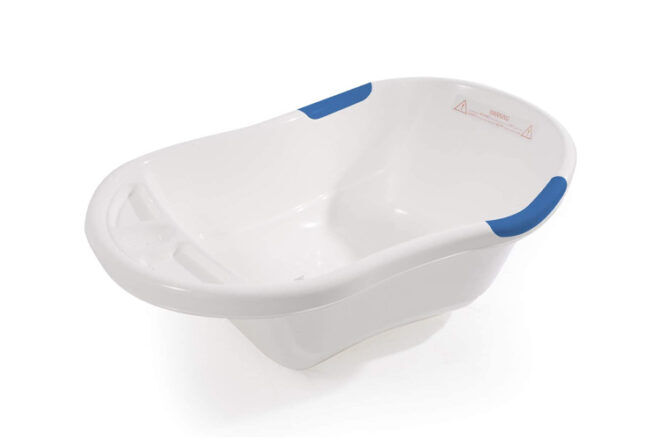 This stand-alone baby bath comes with a plug and hose for easy filling and drainage. The large, ergonomic design is ideal for keeping bub safely in one spot while splashing about and enjoy the suds.
---
5. Chicco Changing Station
Introducing the convenient change table and baby bath all in one compact, foldable unit. It comes with loads of storage areas and is height adjustable to three different levels. A wipeable baby change mat is included with the set.
---
6. OXO Tot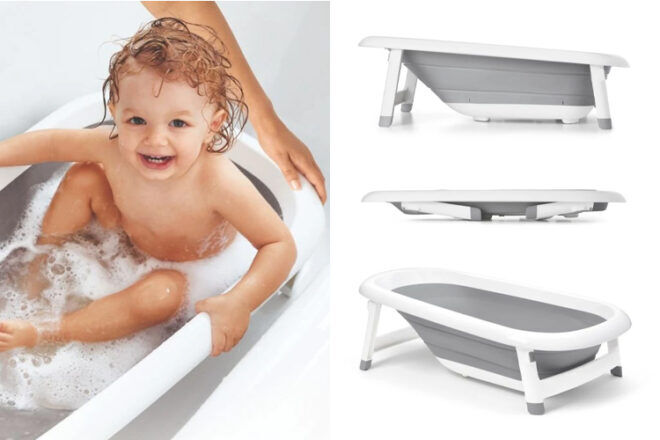 Designed to be used from birth up to 18-months-old this tub is the perfect companion for home or away. It folds completely flat for compact storage and comes with hooks for hanging from the shower for super speedy drying.
---
7. The First Years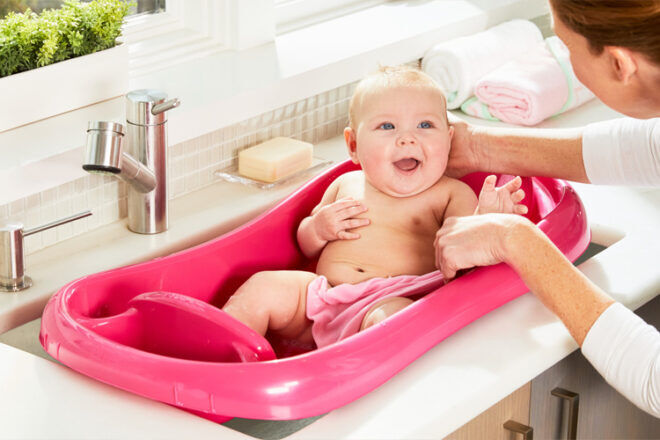 Designed to fit both single and double sinks, this baby bath has all bases covered. A mesh sling with padded headrest keeps bub supported and comfortable, and the drain plug changes colour to alert parents when the water to too hot or cold.
---
8. Blooming Baby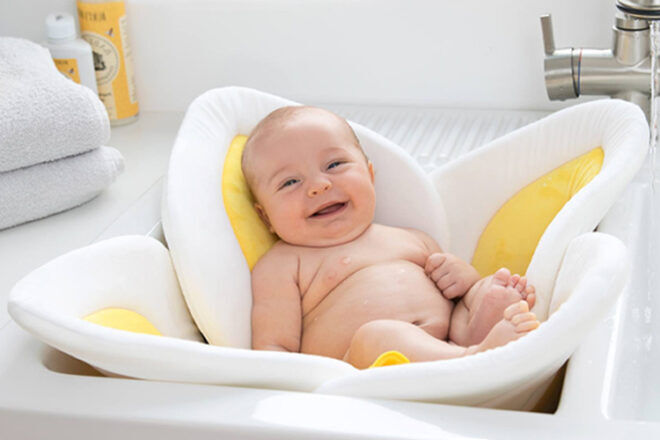 Perfect for wriggly worms and a saving grace for parents on the move, this insert transforms the sink into an ultra-soft (not to mention spectacular) baby bath solution. In a choice of gorgeous hues, they're easy to wring out and quick to dry.
---
9. Puj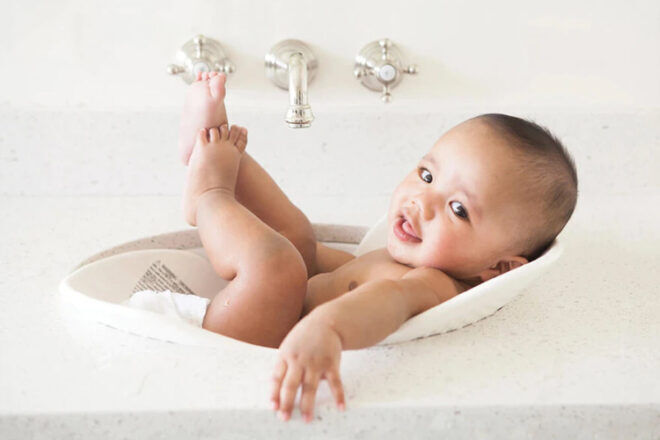 If you're looking for a way to ease the strain on your bath, the Puj Flyte Travel Tub is it. Soft and flexible, it can fit into all different sinks and dries super quick. Add this to your travel checklist along with a portacot.
---
10. Baby Dam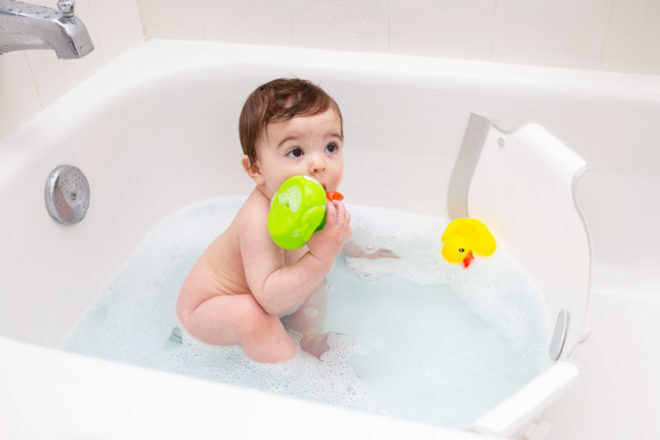 It's the genius device that converts your full-sized bathtub into a pint-sized one for pipsqueaks. It's suitable for all ages and a fab choice for water-conscious families looking to save on their water bills.
---
11. phil&teds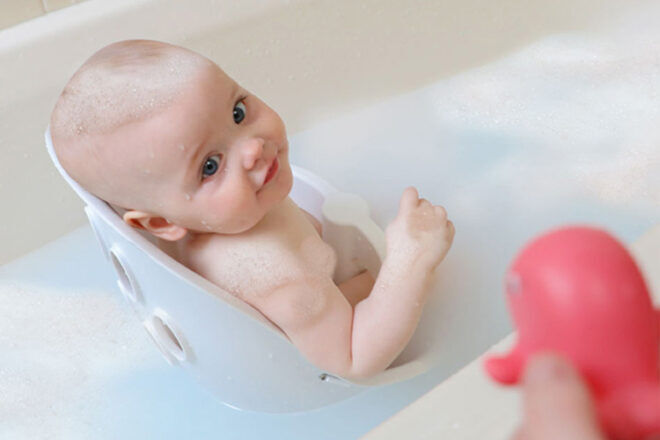 Based on the much-loved Poppy High Chair by phil&teds, this crazy-cute baby bath seat is an all-in-one solution for bathing bub in the big tub. Stick it to the regular tub with the suction caps, pop bubba into the seat and wash away.
---
12. Stokke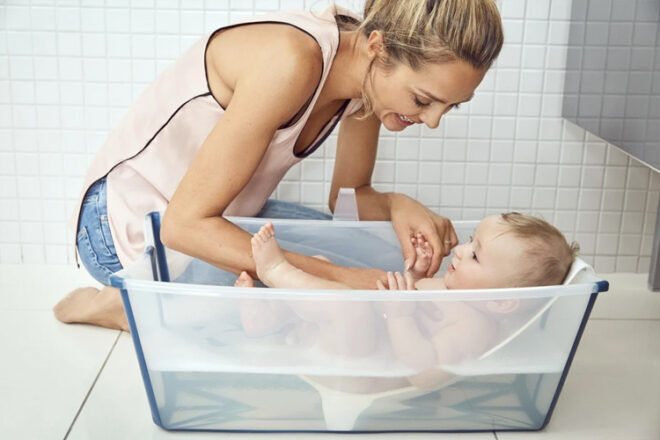 Not a lot of space in the bathroom? Flexi Bath is the answer. Designed to be folded up to just 10cms in width, the Flexi Bath can be easily stored when not in use. It can be used from birth right up to four years and even fits two littlies in it.
---
13. Dreambaby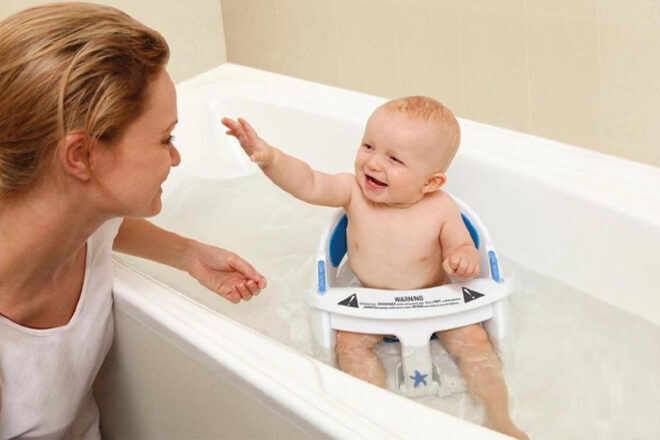 These popular little baby bath seats feature a contoured seat for little botties and a pull-down front opening making it easy to get baby in. In a choice of three colours, they come with extra-strong suction caps and loads of leg space for growing kidlets.
---
14. Angelcare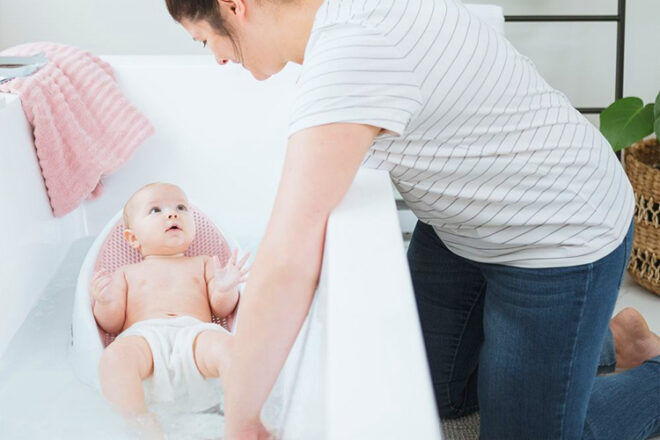 A mould-resistant, lightweight and supportive bath seat for bub to recline in while having a wash. Made of soft mesh, it allows water to easily drain away while being ultra-soft on delicate skin.
---
15. CharliChair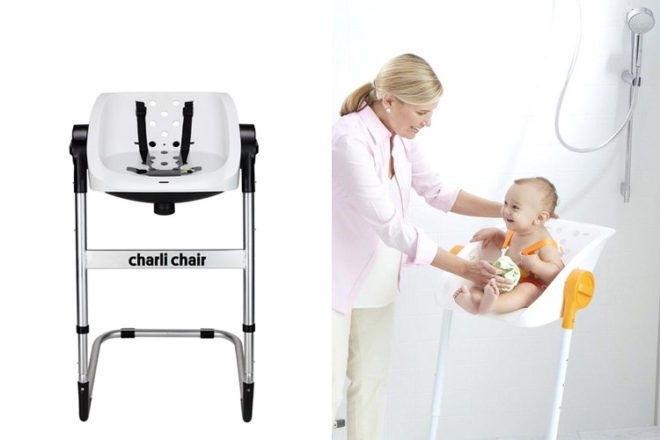 Developed by a mum, CharliChair is built to hold up to 17kgs and will take you from the newborn to toddler phase with ease. It's totally adjustable, with different reclining and height positions, and an absolute saviour for anyone with a bad back.
---
16. Tummy Tub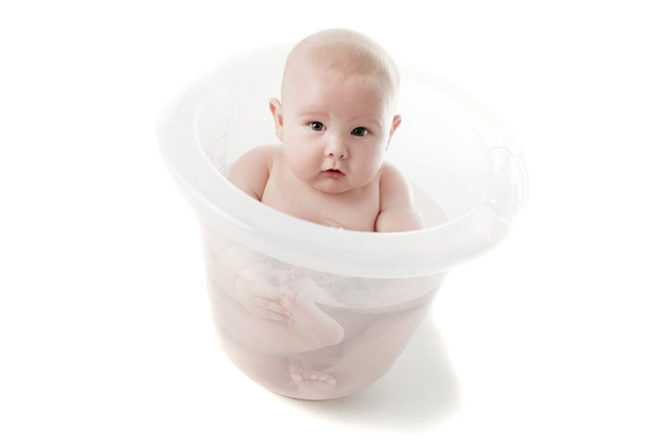 Endorsed by maternity hospitals and doctors, this tub simulates the same environment as in the womb so newborns feel a sense of comfort and security in the bath. While it may look like a bucket, it has an anti-slip base and is made with all non-toxic products.
---
17. Luma Bath Set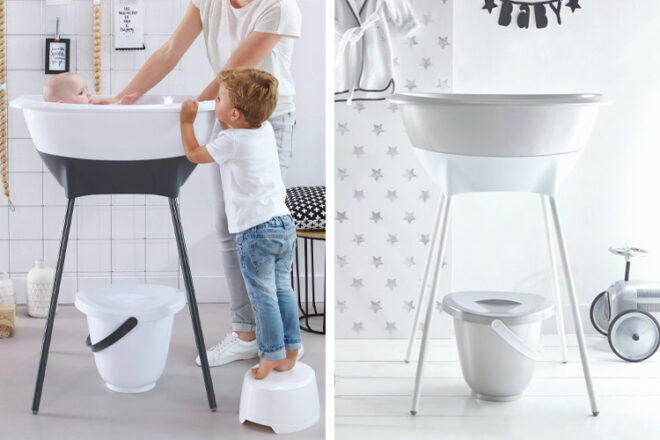 A beautiful set that has everything baby needs for bath time. Complete with baby bath, bath stand, newborn bath seat, bath thermometer, nappy bin, brush, comb and a mini manicure set, it's like a luxury spa for your babe.
---
18. Roger Armstrong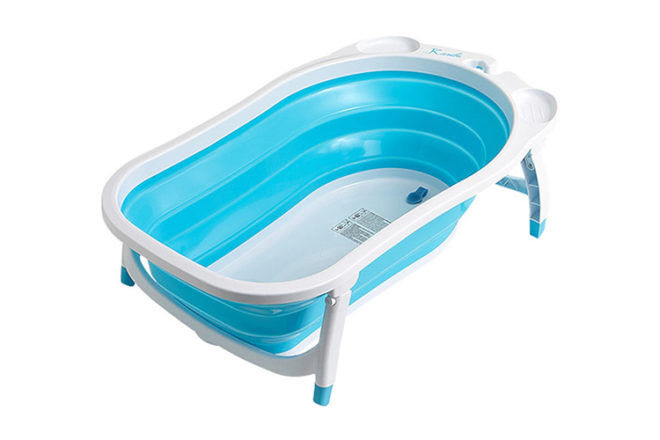 A modern, functional baby tub making bathtime a breeze. It has high walls for holding plenty of water, a heat-sensor plug to prevent overheating and it folds down flat for storage. There's even a hook on the back for hanging it behind a door.
---
This article is curated by our Editors and includes affiliates and/or paid inclusions. See our Disclosure Policy.