At 23 weeks gestation, we were given some devastating news about our sweet baby girl. She is a twin, but her sister hadn't had a heartbeat since eight weeks. My wife, Laura, and I were sent to a specialist who told us we had TRAP sequence. Basically, one twin was trying to share blood with her sister, who had no heart, thus putting great strain on her own little heart. She was trying to do the work of two babies.
We decided to name her Whitney, which means protected, and we believed God would protect her life, just as he had so far.
November 9: A Difficult Decision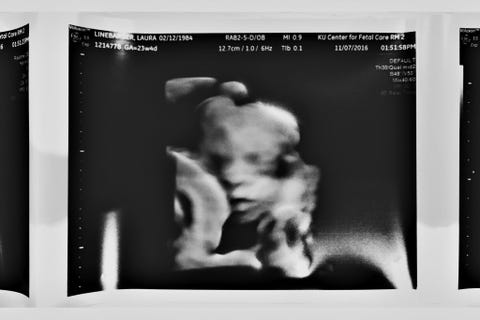 COURTESY OF LAURA LINEBARGER
Our options were limited. We could go in for a procedure to try to cut off the blood supply to the other baby, but this was risky in that it could put Laura into labor immediately. We could wait things out and hope that Whitney could put up a fight and not tire out while in utero, or we could choose to deliver knowing that delivering early came with countless risks. We chose to let Whitney show us the way.
November 22: Born at 25 Weeks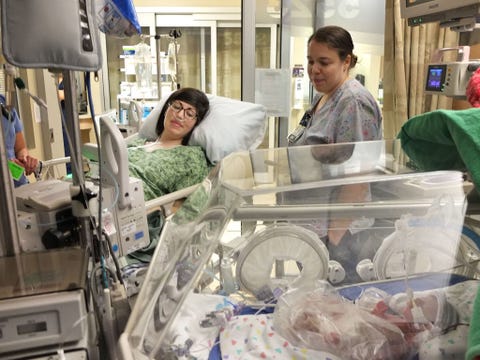 Just two weeks later, we were set up to go in for the procedure to tie off Whitney's twin's umbilical cord. While being monitored before surgery, Laura's water broke. In a moment of chaos, Laura's heart rate skyrocketed and the nurses couldn't find Whitney's on the monitor. Whitney was breech and her feet were clamping the umbilical cord. An emergency C-section was performed, and it was the scariest thing we had ever been through. We welcomed Whitney Parke Linebarger into the world, weighing just 1 pound, 12 ounces. She was immediately taken to the NICU
November 23: Harrowing Early Days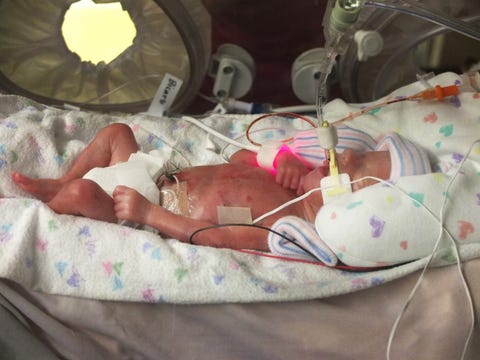 We could visit Whitney in the NICU, and I was even able to hold her hand that night. Those crucial first few days were a mix of emotions. We were so elated to have our second daughter here in the world, but scared for the long, difficult road ahead. A brain ultrasound showed a level three brain bleed, her heart was in distress after working so hard in utero for such a long time, and many of her systems were underdeveloped.
November 28: Finally Holding Her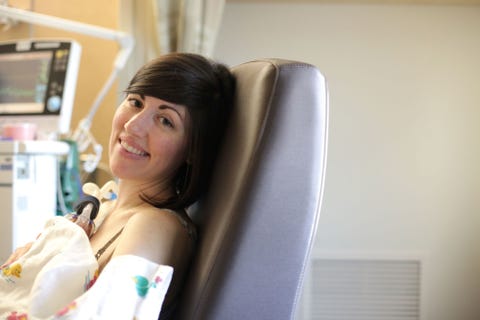 Laura got to hold Whitney on her sixth day of life. She could fit in one hand. It was terrifying to see such a tiny baby, but we were so grateful for the strides she had already made in her short time. This was the first moment I remember feeling like Whitney was real and that she was ours. The look on my wife's face was the exact one she had the first time she held our older daughter, Claire. It was such an encouragement to see a familiar look in her eyes, and I knew we would all get through this together.
November 29: How I Could Help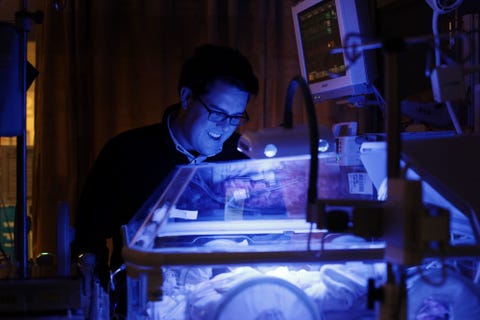 One of the main things I could do as a dad during those early days is what the NICU staff calls oral care. I dipped a cotton swab in breastmilk and rubbed it onto Whitney's mouth. This stimulated her while also offering her some nutrition. With a baby so fragile, knowing I could bond and help Whitney in this way was such a gift. She would move her tiny lips and almost lap up the milk!
December 2: In My Arms at Last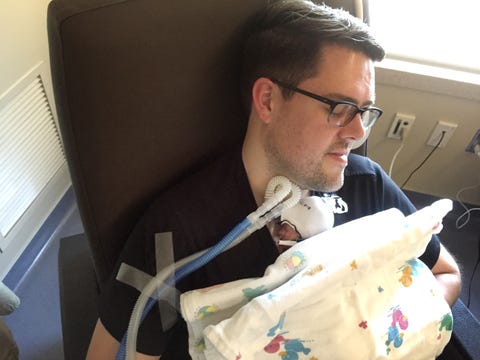 I got to hold Whitney for the first time on December 2. Her vitals remained stable, which Laura said was a sign she loves her daddy. We spent that day, as with many others, feeling overwhelmed by the love and support we'd received. A simple thank you doesn't seem adequate to express our gratitude for everyone who has prayed for us, checked in and just been with us in this.
December 8: The Fight of Her Life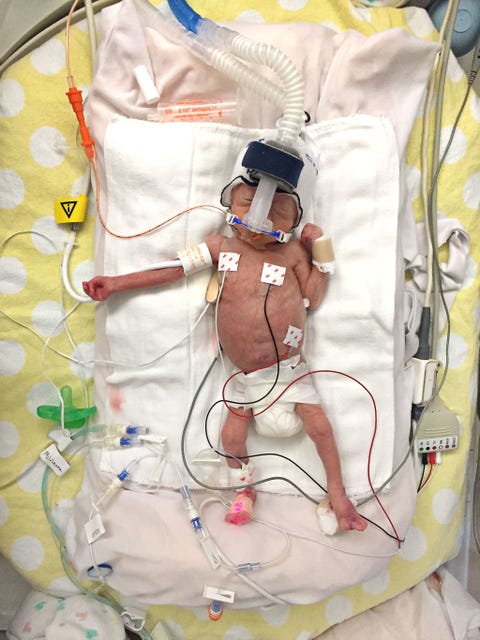 Whitney's biggest early challenges were her brain bleed and her heart function. Not only had her heart worked so hard in utero, she had what is called an open PDA, which is a large hole. Twice the doctors wanted to go in for surgery, but both times Whitney's condition was stable enough to avoid operating. Eventually, her PDA shrunk in size with the help of medication and time.
December 15: Tiny But Tough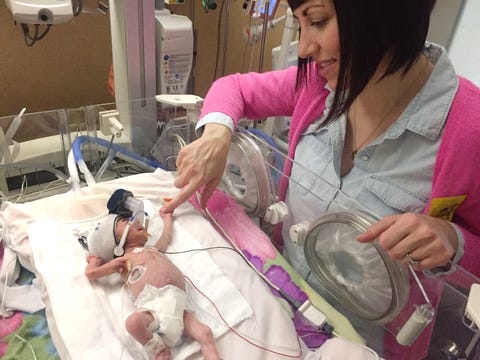 Whitney continued to be the sweetest, tiniest thing, and all of her nurses would comment on her feistiness. She had beaten so many odds. The brain bleed was the most frightening issue for us to digest, but ultrasounds had shown it stabilized and even retreated some, so we became hopeful for her future. Throughout our time in the NICU, we became accustomed to watching the numbers — to understand her condition but trying to not obsess over them. It was exhausting, and you had to try not to get overwhelmed with the fear of the unknown. But we believed God held us tightly every step of the way, and that helped us cope.
December 20: One Month Old!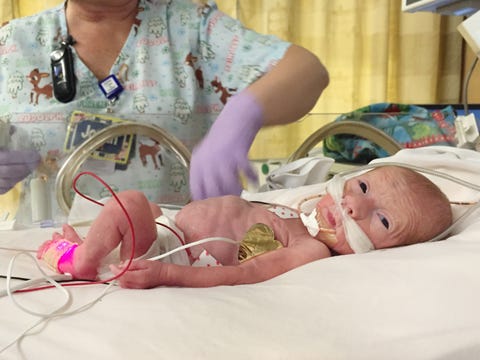 Her first month of life is almost a blur of progress and declines. She would make two great strides forward and then take a step back, which we quickly learned was normal for life in the NICU. Around her one month birthday she was able to move off the CPAP machine to help her breathe and onto a nasal cannula. To be able to see her face without a giant mask covering it was such a joy!
December 24: First Family Photo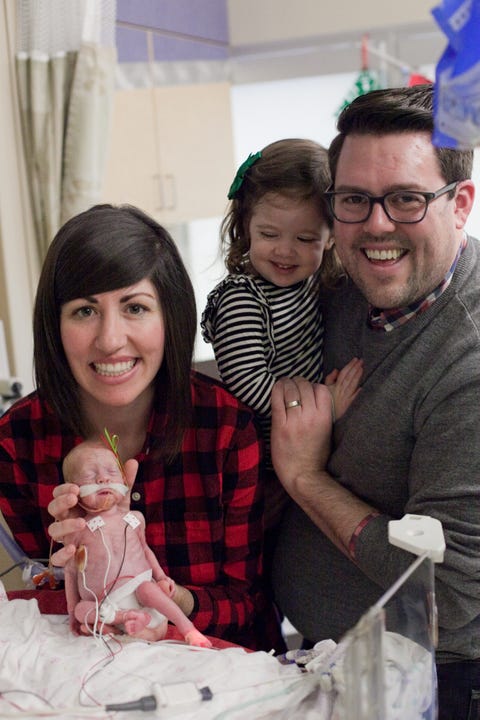 COURTESY OF ERIC AND LAURA LINEBARGER
Our first picture as a family of four came on Christmas Eve and will forever be the best gift we've ever received. Whitney was doing well enough for us to hold her and our 2-year-old daughter, Claire, was able to visit several times. Taking this photo was heartwarming for us; it allowed us to envision our lives together in the future.
December 25: Happy Holidays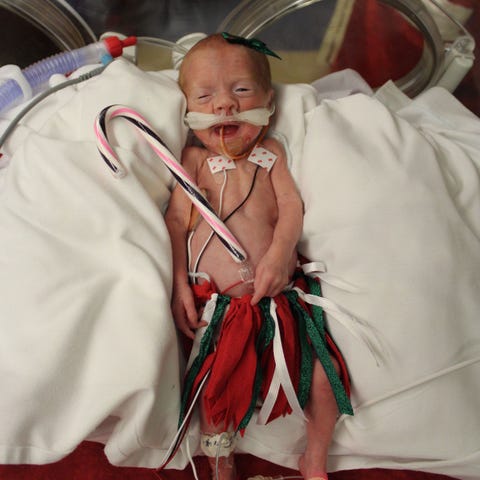 We spent several holidays in the NICU. While it was difficult, the staff made things so special for Whitney and for us. One of Whitney's nurses made her a festive Christmas skirt for when Santa came to visit. We knew our baby was getting so much love from them when we were away. Each person who entered Whitney's room during her time in the NICU will forever hold a special place in our hearts.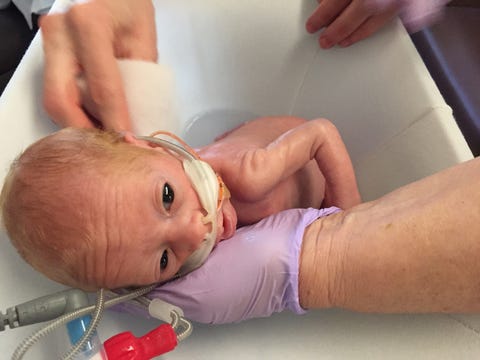 Her first bath, on January 5, was so sweet. You quickly forget how wonderful the normal things can be when your baby is in the hospital, but we loved giving her a bath ourselves — and she loved the water. She got her hair washed, and her strawberry blonde hair has shocked her parents, who assumed she'd have dark hair. Whitney surprises us all the time!
January 7: Sisters Bonding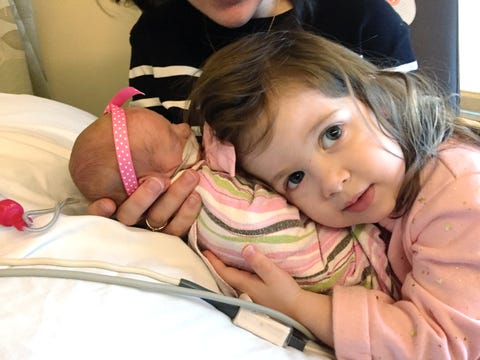 We didn't really have time to prepare our older daughter, Claire, for Whitney's quick arrival. But Claire was able to visit the hospital several times and thankfully didn't think much of all the machines and wires.
Balancing time at work, at the hospital and at home was challenging and exhausting, but Laura and I always kept the mindset that this phase was temporary. There were also sweet moments sprinkled throughout: Quiet snuggles with Whitney, letting Claire "play" with Whitney by putting stickers on her isolette, and really making the most of time with Claire before Whitney came home. Claire has served as a nice distraction at times of stress and despair, and Whitney has already taught us so much about determination. These two girls are the loves of our life, and we're so grateful they have each other as they grow up.
January 13: A Turning Point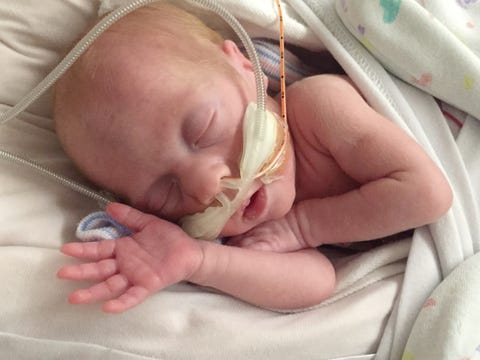 The day Whitney moved from an isolette into an open crib in the hospital was a real milestone. It meant that she was truly headed home soon. On one particular day, Whitney made so much progress: She took a bottle, moved to a crib and was able to start wearing clothes. All of those big things happened in such quick succession that it was almost overwhelming. It wasn't until this time that we realized Whitney had been naked for two months!
February 4: Planning to Leave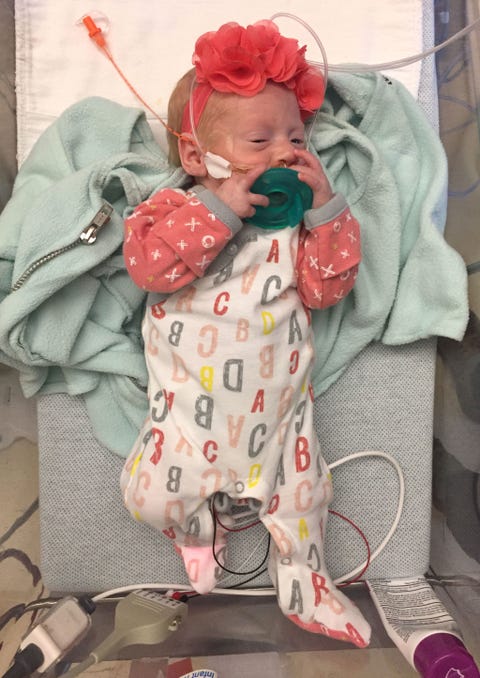 On February 4, Whitney's condition had drastically improved and doctors told us she could be home within a week. We were thrilled — and terrified. I got to bottle feed her for the first time too, which went well. Feeding a preemie can be complicated but we learned each time. It helped us prepare for having her home.
February 15: Finally Home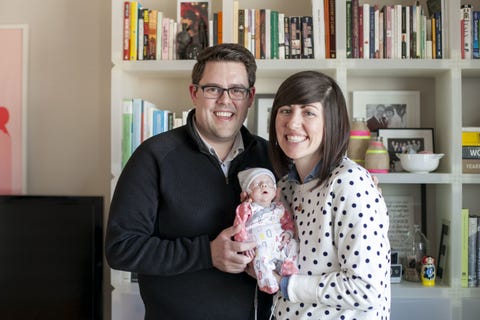 COURTESY OF ERIC AND LAURA LINEBARGER
After 86 days in the NICU, on February 15, Whitney came home! It was such a joy-filled day for our family. Everyone at the hospital was thrilled and surprised because it was still a couple weeks before her due date. She had come so far.
March 1: Passing Her Due Date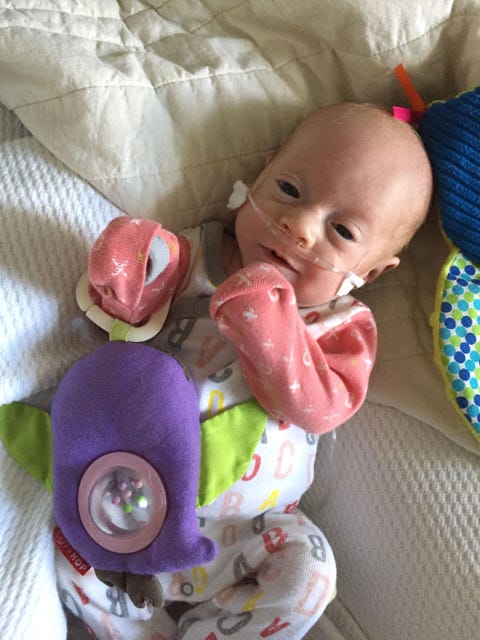 Whitney was due on March 1, and celebrating this day — at home — was a gift. We'd never anticipated the road that would have led here or that she'd be three months old instead of just days. She has overcome so many obstacles, and we thank God for his mercy and provision in her life. We can't wait to see the person she grows into!
March 12: Settling Into a Routine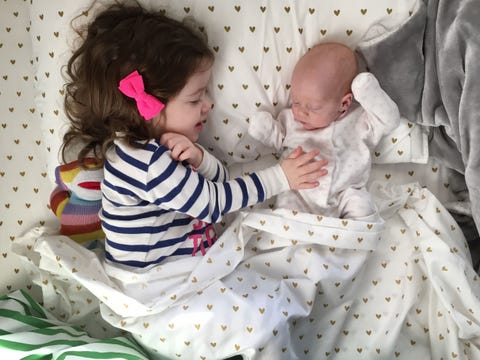 Life at home has been wonderfully exhausting. Whitney's main goal is to gain weight, so she is on a strict feeding schedule. While the schedule feels rigid, it's incredible to have the family all under one roof. As a dad, my best moments these days are seeing all of my girls together, whether it be Claire offering Whitey pacifiers constantly or everyone snuggled into Claire's bed for nightly stories. We are soaking up this fleeting time.